Here you will see example of various EDM's that have been build (or are being built) by readers of my EDM books.  I think it is important to understand that  an EDM is more than just the electronics power supply, so I will post photos of home built EDM power supplies,  servo heads, filtering systems, work and storage tanks as well as other ideas that many have developed by readers and builders like yourself. Also examples of actual work accomplished with these home built machines will be shown.
I plan to update this page from time to time as I have examples to share, so check back  to see "what them that's doing are doing"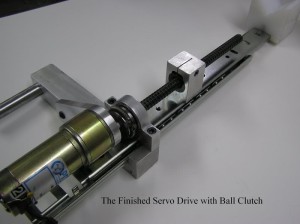 Rich, one of the earlier builders of my EDM's designed this slick servo drive with a ball clutch. I know that several other builders have used his suggestions and implemented his clutch design into their servo drives.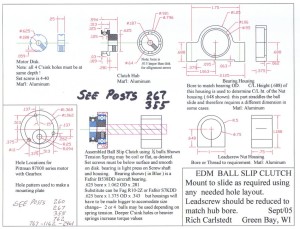 This is a drawing and explanation from Rich of his ball slip clutch design. The post 267 & 355 written on the drawing refers to post found at:
https://groups.yahoo.com/neo/groups/EDMHomeBuilders/info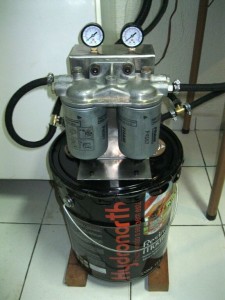 I am impressed with this VERY nice filtering  and storage system built by Mathias. This system includes pressure gauges which give you a clue as to the condition of your filters as well as the pressure of the dielectric being delivered to the gap.  I really like this out of tank filter/storage design.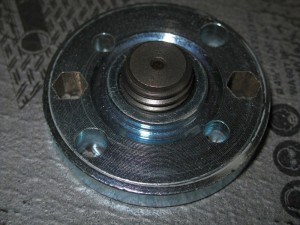 Shown in the photo to the left is an abrasive grinder nut that Mathias burned two hex shapes into using a brass electrodes. This makes it possible to remove the nut with a hex wrench vice using a special spanner tool, great idea!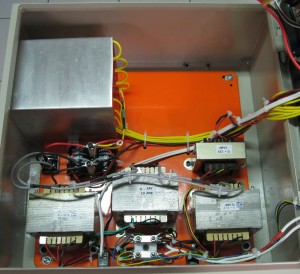 Here is a sneak peek into his very nicely layout power supply for the Pulse machine. In the foreground are three large power transformers and the smaller 12volt control transformer. The aluminum cover in the upper left hand corner forms a cooling tunnel for the power resistors.
His blog site is http://mikroeng.blogspot.com.br/p/blog-page.html